CV100 CV-Mini™ Signal Analyzer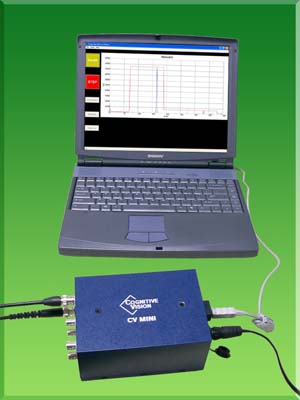 A "Silver Bullet" Solution, Tailored To Your Application
Once again, Cognitive Vision takes the lead in developing innovative new products designed to meet the needs of industry professionals. The CV-Mini™ signal analyzer has been uniquely engineered to provide a targeted, "silver bullet" solution for one specific industry application.
We understand the need for simplicity in both use and function. Some customers who purchased a full function signal analyzer (such as our legacy flagship CV395B DynamicPRO™) have found they barely scratch the surface of its considerable capabilities. While the DynamicPRO™ has a reputation for being the gold standard solution for a wide variety of industry applications, at times certain customers would tell us "All I ever use it for is ______ " (fill in the blank with any single application).
Using the analogy of the Swiss Army knife, why should you have to buy the deluxe model loaded with all those extra "nice-to-have, but never-to-use" features (e.g., shoehorn, car jack, chain saw, etc.), if all you want to do is skin catfish? The answer is simple: industry manufacturers did not offer a top-of-the-line instrument that provides a single function solution. That is … until now!
This was the concept behind developing the CV-Mini™ - a compact signal analyzer that does one thing, and one thing only - and does that particular function extremely well. It can be mounted anywhere. CV-Mini™ represents a unique "downsized" version of the CV300D DynamicPRO™ signal analyzer. Since it operates from one pre-selected DynamicPRO™ configuration file, it can be tailored specifically to your particular application. The unit is multi-channel with multiple frequency ranges, and like its big brother, it has a huge dynamic range. Additionally, you connect to it via Ethernet, USB, or Wi-Fi.
What does this mean for you? First, the CV-Mini™ does precisely what you need, when you need it, and nothing more. Second, you save valuable equipment dollars by not having to "overbuy" for capabilities you do not need. Third, because it is single function, it is a piece of cake to operate - there are no front panel controls, no touch pads, no knobs*. You set it up once (via its Ethernet, USB, or Wi-Fi connection), and it's up and going until power is secured. Even the most junior technician can't go wrong - simply set it, and forget it - it's just that easy!
Used to the look and feel of our legacy products? Would you prefer to retain your existing user interface? No problem! We can replicate the measurement capability of your existing products, complete with duplicated software "front panel." Your operations can continue without missing a beat.
Some of the main features of the CV-Mini are:
1 to 4 channels plus external trigger / tachometer input
Frequency ranges from dc to 100kHz
DC or AC coupling plus ICP
0.001 Vrms to 20 Vrms input range
The CV-Mini™ is a high-speed, multi-channel FFT instrument that represents a 30-year evolution of analyzer technologies. The unit is portable, rugged, and is a significant cost effective alternative to more expensive full function signal analyzers. Adaptable to your specific signal-processing problem, this innovative instrument can provide you with the "silver bullet" solution you need. CV-Mini™ is rapidly becoming the choice of industry professionals. Shouldn't your shop order one today?
(* Inter-measurement controls, such as the averager start/stop/store are available via the measurement software monitor module.)